A monopolistically competitive market is vastly different from a monopoly.
a. Explain the above statement. [10
]
Monopolistically competitive market (MPC) and monopoly are both different forms of market structure. Market Structure is the characteristic of an industry that affects the firm's behaviour and its level of performance. Both MPC and monopoly are price searching. Example of MPC is hairdressing industry while that of monopoly is the utilities industry.
The MPC is vastly different from the monopoly. In the MPC, there are a large number of sellers compared to only 1 seller in the monopoly. There is hence competition between firms in an MPC but no competition for a monopoly. The goods produced by the MPC are close substitutes for each other but the goods are slightly differentiated. In a monopoly, there are no close substitutes.
In the MPC, there are no barriers to entry. New firms can enter or leave the industry without incurring any cost. However, in the monopoly, there are barriers to entry. These can take the form of natural barriers. The firm could be a natural monopoly, facing a constant downward sloping LRAC. This industry has only space for 1 firm, hence new firms cannot enter. Moreover, new firms may have to incur high start up costs to enter the industry. The necessary technology may be unknown to new firms as well. A monopoly may also hold a patent or a certain copyright which prevent other firms from entering.
In the long run, a MPC firm is unable to make supernormal profits. Supernormal profits is total revenue greater than total cost (which includes opportunity cost). This is because MPC firms face no barriers to entry. If there are supernormal profits to be made, new firms will continue to enter the industry. In the long run, MPC firms can only make normal profits where total revenue = total cost. For a monopoly, it is able to make supernormal profits as long as it can maintain its barriers to entry and prevent new firms from stealing part of its profit pie.
The demand curve of the MPC is downward sloping and is more price elastic than that of the monopoly since there are so many substitutes available. The MPC firm has no industry demand curve since each firm has independent pricing policies and hence charge different prices. The monopoly industry demand curve is the firm's demand curve, since the monopoly is the only firm in the industry.
In MPC markets, there will be a lot of resources spent on advertising. Since products are differentiated and there is intense competition, producers advertise to increase demand. In the monopoly, there is no need to advertise since it is the sole seller of the product.
Given that the MPC demand curve is downward sloping and it makes normal profit, MPC firms will operate with excess capacity. This is different from monopolies, which may over-utilise or under-utilise a plant.
b. Discuss what advantages and disadvantages might occur when the market becomes more monopolistic in nature. [15]
When a market becomes more monopolistic, it moves from a monopolistically competitive market to a monopoly.
When a market becomes more monopolistic, the firms in the market are now able to enjoy economies of scale. As output increases, the cost per unit of output drops. This can be seen in the falling arm of the LRAC below. The most optimum output is when Q = Q*. This is at the minimum efficient scale, which occurs at a high output level. Only a monopoly producing a large output can reap this benefit, a small producer in the MPC cannot.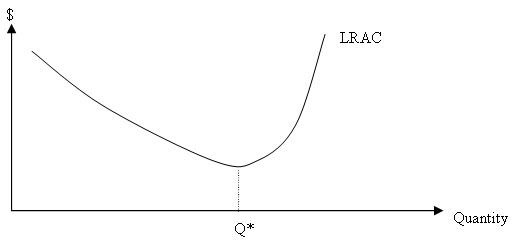 Moreover, a firm in a monopoly can make supernormal profit. These profits can be channeled back into research and development, maintaining barriers to entry, but at the same time lowering cost of production resulting in greater efficiency.
Moreover, monopolies might result in innovation, according to Schumpeter's "creative destruction". The incentive to reap supernormal profits will cause new firms to think of innovations to destroy a monopoly. This can be seen when the introduction of faxes resulted in the breakdown of the post office monopoly.
A monopoly also avoids wasteful competition. Resources are not wasted on advertising, which could have been otherwise used more efficiently. For example if a TV channel has 2 options and 90% of the people want to watch a World Cup final and 10% want to watch an opera. If there are 2 stations owning 2 channels, both will show the World Cup final and there will be welfare loss. However, if there is a monopoly, it will show both the World Cup final and the opera on the 2 channels, hence avoiding wasteful competition.
Moreover, the monopoly can produce at a productively efficient manner by chance.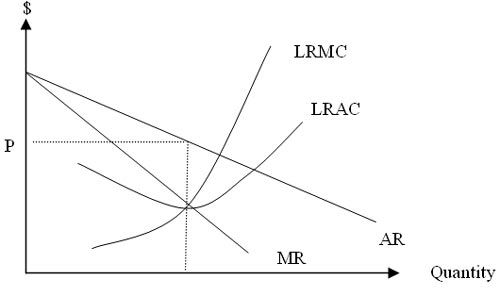 As shown above, the monopoly can produce at Q, which is the lowest point of the LRAC and is hence efficient.
A monopoly can also practice price discrimination because it has monopoly power. In first degree price discrimination, allocative efficiency is achieved as P = MC.
There is no welfare loss to society. Consumer surplus just becomes producer surplus. Moreover, goods that previously could not have been produced can be produced under price discrimination. However, when a market becomes more monopolistic, it has its disadvantages. It might result in x-inefficiency, which is organisational slack due to a lack of competition. Monopoly will have no incentive to lower costs since there is no competition and they are already earning supernormal profits.
Moreover, the monopoly will charge a higher price with a lower output as its demand curve is higher and relatively more inelastic. It will then have a larger welfare loss compared to the more elastic demand curve of the MPC.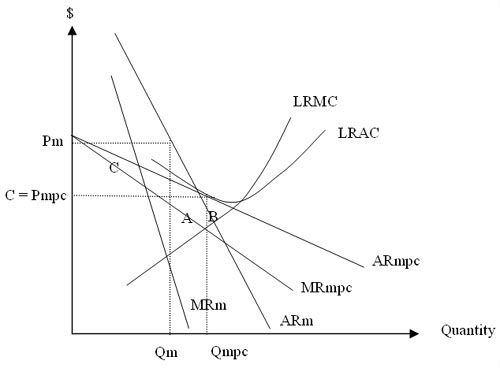 Pm is clearly higher than Pmpc. Although Qmpc < Qm, there are many MPC firms in the industry but the diagram only shows demand for 1 firm since there is no market demand for MPC. Hence total output will be greater. Triangle A is greater than triangle B, hence indicating higher welfare loss for monopoly.
The monopoly will also earn supernormal profits given by the shaded area C. This will result in income inequality favouring the factor owners. Moreover, there will be a decrease in variety since the monopoly has no close substitutes.
In conclusion, moving from a monopolistically competitive market to a monopoly has its advantages and disadvantages but I feel that the advantages outweigh the disadvantages especially if the firm is a natural monopoly and there are a lot of economies of scale to reap at higher output.